Chicken Broccoli Bake
This is an old standby for us, it is a pretty basic recipe, and it tastes very good.
Ingredients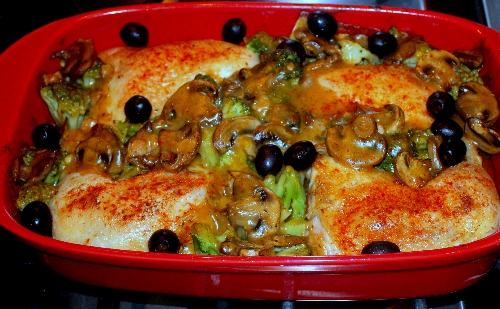 Chicken Broccoli Bake
2 Tablespoons butter
2 Tablespoons olive oil
2 to 4 lbs chicken pieces
½ teaspoon garlic salt
1 can (10½ oz) condensed cream of chicken soup
1 can (4 oz) mushroom stems and pieces
¼ cup water
1 teaspoon Worcestershire sauce
½ teaspoon dried thyme leaves (crushed or ground)
2 packages (10 oz each) frozen broccoli spears
½ teaspoon salt
Preparing the Dish
Heat butter and olive oil in oblong baking dish, 13½ x 9 x 2 inches, in 400 degree oven until butter is melted.
Place chicken in dish, turning t o coat with margarine mixture. Arrange chicken skin sides up; sprinkle with garlic salt. Cook uncovered 30 minutes.
Mix soup, mushrooms (with liquid), water, Worcestershire sauce and thyme.
Rinse broccoli under running cold water to separate; drain.
Remove chicken from oven; drain fat from dish.
Arrange broccoli along side of chicken; sprinkle with salt.
Spoon soup mixture over broccoli.
Cook uncovered until chicken is done and broccoli is tender, about 30 minutes.
Garnish with paprika and ripe olives if desired.
Enjoy!