Firemen's Grilled Chicken Basting Sauce and Marinade
If you like the chicken from your local firemen's chicken barbecue fundraiser, here is the secret for making your grilled chicken taste even better. My mother gave me the original recipe; I'm not sure where she got it. It is a basting sauce for chicken that you grill. This recipe has been changed from the original in a number of ways to improve it. It does make some delicious chicken. Even though you can now make chicken this way, please remember to support your local firemen.
Ingredients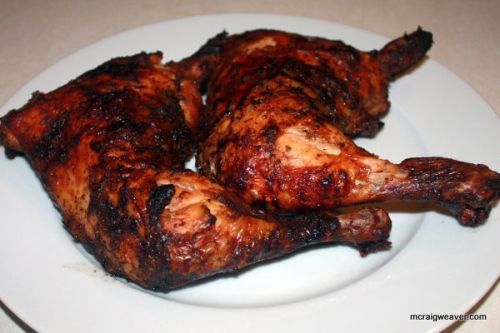 Grilled Chicken Legs
¼ cup corn oil
¼ cup olive oil
½ cup lemon juice
½ cup cider vinegar or red wine vinegar
2 Tablespoons soy sauce (not low sodium)
2 Tablespoons Worcestershire sauce
1½ teaspoons granulated garlic, or garlic powder
2 teaspoons liquid smoke
1 egg
Procedure
Put all ingredients into a blender and pulse until well mixed.
Optionally, use this sauce as a marinade for your chicken before grilling. Put your chicken pieces into a zipper type bag add some of the marinade, and allow to marinate. I often leave mine in the refrigerator over night.
If possible, grill over charcoal, like your firemen do. The firemen generally use direct heat, but the coals are a long distance from the chicken, so they don't get any flare ups. You can avoid flare ups by using indirect heat.
Freely apply ground black pepper to your chicken just before placing on the grill.
Grill skin side up. While grilling, liberally brush the sauce on both sides of your chicken every 15 minutes, continuing to grill skin side up.
Grill the chicken for about an hour. Do not apply the sauce during the last 14 minutes of grilling. This allows the chicken skin to crisp. To be safe check the internal temperature of the chicken, it should be 165°F or higher.
Enjoy!