French Onion Soup
This is an easy recipe for French Onion Soup. You can substitute vegetable broth for the chicken broth to make this vegetarian.
Ingredients
4 medium onions
2 Tablespoons butter
32 ounces (1 quart) chicken stock or broth
1 bay leaf
1/8 teaspoon ground black pepper
1/8 teaspoon dried thyme
4 slices of French bread, ¾ to 1 inch thick
8 slices Swiss cheese
8 slices Provolone cheese
¼ cup grated parmesan
4 Oven-proof crocks or soup bowls to hold individual servings
Preparing the Soup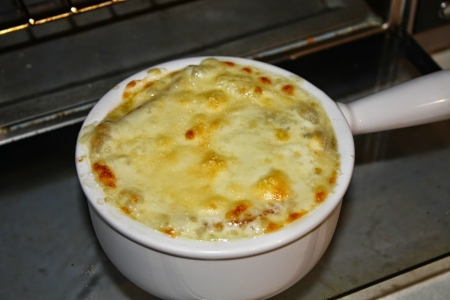 French Onion Soup in Crock.
Cover and cook onion in butter in a 3 quart sauce pan over low heat, stirring occasionally, until tender, 20 to 30 minutes.
Add chicken stock, bay leaf, pepper and thyme. Heat to boiling; reduce heat; cover and simmer 15 minutes.
Trim the crusts off the French bread slices. Toast the bread lightly. Add soup to the crocks. Top each serving with a slice of toasted French bread. Alternate a slice of Swiss cheese, then a slice of Provolone cheese on top of the bread, until you have 2 slices of each. Sprinkle parmesan cheese on top.
Place bowls under broiler and broil with cheese about 5 inches from heat just until cheese is melted and golden brown on top, 1 to 2 minutes.
Enjoy!