Easy Hollandaise Sauce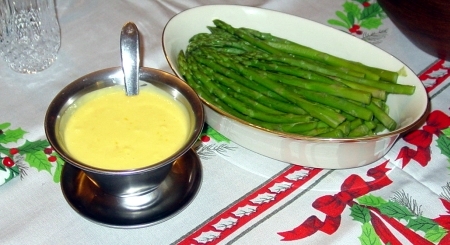 This is an easy recipe for Hollandaise sauce. The recipe is pretty much right from The Frugal Gourmet [amazon.com] cookbook, with just a couple notes from me.
Ingredients
4 egg yolks
½ teaspoon salt
½ teaspoon dry mustard -- I use Coleman's
1 Tablespoon freshly squeezed lemon juice - juice from about ½ a lemon
1 shot Tabasco -- see Notes below
¼ pound butter (one stick)
Preparing the Sauce
This sauce is delicious, and is my favorite for putting on practically everything. The old method of preparation, using a double-boiler, is time-consuming and definitely not foolproof or even easy. This method, using a blender, or Cuisinart (food processor)
works very well and is quite simple and easy.
Melt the stick of butter in a sauce pan, and keep warm. Into the blender place the yolks, salt, mustard, lemon juice, and Tobasco. Blend for three seconds. Heat your melted butter until it just starts to sputter, but not burn. Then turn the blender back on, and while the blender is going, slowly pour in the hot butter. The temperature of the butter is the secret: It must be very hot, and the hollandaise sauce will thicken immediately. To make a smoother silkier sauce, use only the clarified portion of the melted butter, carefully pouring and leaving the white milk solids in the sauce pan. Personally, I find that pouring in all the butter, including the milk solids, makes for a much tastier sauce, and seems less wasteful to me.
The texture should be that of a thick sauce. If your sauce is more of a custard, or if it resembles curdled milk, then you added the butter too quickly.
Serve on vegetables, poached eggs, or meats, potatoes...
Notes :
A "shot" of Tobasco, means one squirt from the bottle.
Twist the lemon peel to get some of the lemon oil in the fresh squeezed lemon juice. To make it even more lemony, grate a little of the lemon zest and include that too.
If using a Cuisinart, which is what I use as it works quite well. Remove the small pusher, and slowly pour the hot butter through the pusher opening.
I have been told that ½ teaspoon salt makes this sauce too salty. Although I like it with ½ teaspoon salt, you may want to use only ¼ of a teaspoon.
I love this easy hollandaise sauce on asparagus, or broccoli, or salmon, or eggs Benedict, or just about anything.
Reheating Tip:
If you try to reheat leftover hollandaise sauce in the microwave, or on a stove top, the results will be disappointing, the egg portion of the sauce cooking hard, or the sauce separating. So what you do is allow the sauce to come to room temperature, and then spread the solid chunks of it on the hot food on which you want the sauce. Cover the food, and in a minute or two the hollandaise will have become a sauce again.
Enjoy!