Hoppin' John
Hoppin' John is another version of "Beans & Rice", similar to Cuban Black Beans and Rice, or Red Beans and Rice. Like other beans and rice dishes, Hoppin' John is peasant food with ethnic origins. Hoppin' John is a Southern U.S. dish that probably originated with slaves, and has roots in Africa and the Caribbean.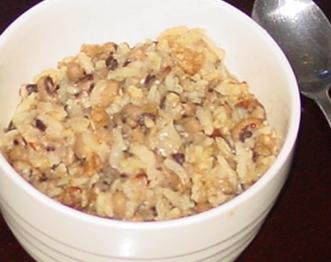 A Little Etymology
More interesting than the recipe itself, is the etymology of the name of the dish, and the folklore associated with it.
One story is that a one-legged slave, John, hopped around the table as he served a meal of rice and black-eyed peas. The meal was so good that it was named after him.
Another story is that to invite people in to eat this dish, someone would yell "Hop in John!" and so the dish was named.
There are a variety of other stories about hopping children and such, but the most plausible explanation is that the name is derived from the name of a similar Caribbean dish. The Caribbean rice & beans dish is made with pigeon peas, which are called "pois a pigeon" in French. This is pronounced something like "pwah ah peezhahn". If you remove the "pwah", the "ah peezhahn" sounds like "Hoppin' John". I think this is probably the most likely origin of the name of the dish.
Hoppin' John is served as a New Year's Day dish, supposedly because if it is the first thing eaten on New Year's Day you will have good luck the rest of the year. Eat "poor" on the first day of the year and you will eat well the rest of the year. It is often served with collard greens, to bring wealth (U.S. cash is green).
There are numerous variations on this dish, with green or sweet red peppers, tomatoes or tomato sauce, various spices like cumin or ginger, and different meats, smoked pig jowls, ham hocks, fatback, andouie, even Italian sausage. My version of this dish is a fairly basic version without much variation from what I imagine was the original plain black-eyed peas and rice, in spite of this, it is quite tasty.
Traditionally, you cook the black-eyed peas until they are almost done, then add the rice and cook until both beans and rice are tender and the liquid absorbed. I prefer to cook my beans and rice separately, the textures turn out better, and the flavors do not blend together as much.
Ingredients
1 lb. black-eyed peas
1 lb. bacon, finely chopped
1 teaspoon crushed red pepper
2 onions, chopped
1 clove garlic, crushed
4 cups chicken stock
3 chicken bouillon cubes (or 3 teaspoons bouillon granules)
½ teaspoon ground black pepper
2 cups chicken stock
1 cup long grain rice (I like jasmine rice for this)
You want a good smoky bacon, so the dish has a smoky flavor. If it isn't smoky enough, at the very end, you can mix in a teaspoon of liquid smoke.
Cooking Procedure
Wash and sort peas. In a large pot, cover with water and bring to a boil. Boil for 3 minutes. Allow to soak overnight. Drain and set aside.
In a large pot, cook bacon until crisp. Add crushed red pepper, onions and garlic, and sweat over low heat for 2 minutes. Add the black-eyed peas, chicken bouillon and 4 cups chicken stock, bring to a simmer, and cook for 45 minutes, stirring occasionally.
Cook rice separately in 2 cups chicken stock: combine rice and chicken stock in medium non-stick pot, bring to a simmer. Cover and simmer for 5 minutes. Turn off heat, leaving covered, and allow to stand for 15 minutes.
Gently fold the rice into the bean mixture, adding black pepper.
Serve with collard greens and a good beer.
Enjoy!