Italian Meatballs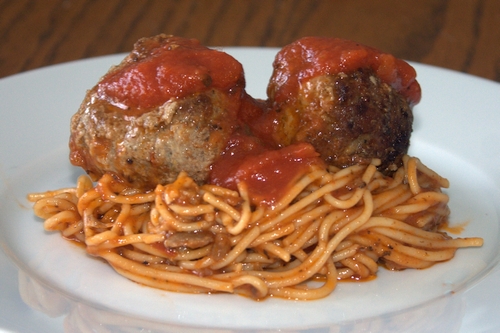 Italian Meatballs
Meatballs are actually easy to make, and the recipe can be modified, it is fairly forgiving. This recipe does not have onions, or fresh garlic, but uses garlic powder, but if you want, you can change that to your taste. I like the recipe the way it is here though.
Ingredients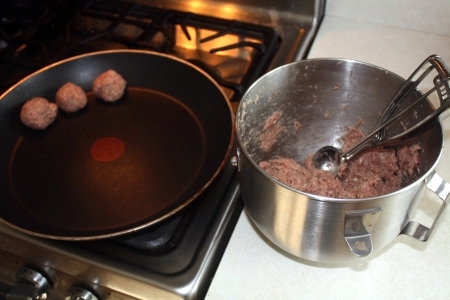 Meatball Mixture and Scoop
2 slices white bread
(or left over hamburger or hotdog buns, whatever)
¼ cup chicken or beef stock, or milk
(I prefer milk)
1 lb ground beef
1 lb ground pork
1 egg, beaten
1 teaspoon salt
1 teaspoon dried oregano
1 Tablespoon fresh parsley, chopped
1 teaspoon garlic powder
1 teaspoon ground black pepper
1 teaspoon crushed red pepper
¼ cup grated parmesan cheese
One of the things I do with my meatballs to add fat and flavor, is to add ground up bologna and possibly some other ground up sandwich meat. This may sound like something you wouldn't like in your meatballs, but give it a try. One of the supermarkets near my home sells lunch meat ends that I buy. They are very inexpensive. For meatballs, I look for packages that have what looks like, and has the same texture as bologna in them, so olive loaf is okay, mortadella, and regular bologna are better though. I take this home and grind it in my meat grinder (actually an attachment
for my KitchenAid stand mixer
). I use the fine grinding blade and setting. Then I mix this into my ground meats along with the other ingredients. I will also grind up any ham or other soft and fatty sandwich meat, but no chicken breast or turkey breast or roast beef, they are too dry. Do not use any meat that is hard, like salami or highly spiced like pepperoni. This ground sandwich meat shouldn't make up more than a quarter of the meat though, and is optional in this recipe.
Preparing the Meatballs
Tear bread into small pieces, putting the pieces into the bowl of a stand mixer. If you don't have a stand mixer, then you can just use a large bowl and mix the ingredients with a big wooden spoon, or your hands.
Add your stock or milk to moisten the bread.
Gather the rest of the ingredients, and add to mixing bowl.
Mix on low speed stopping to make sure you get the bottom of the bowl mixed well, and then continue mixing until all ingredients are just mixed. Do not over-mix as this will make the meatballs too firm, not tender.
Make the meatballs golf ball size or larger, rolling them in your hands. I use a 1¾ inch diameter, 1 oz ice-cream scoop to get the same amount of meat in each meatball, but I still roll them in my hands to make them round.
Sauté the meatballs in a large non-stick pan, until brown, turning each meatball once, and cooking through, about 5 minutes per side.
Simmer these meatballs in a good sauce, for up to three hours. This will make the meatballs far more moist and tender.
Enjoy!