How to make Barbecue (BBQ) Sauce
In the United States, there are a variety of kinds of barbecue (BBQ) sauce from different locales in the country.
Servings: 4
Preparation Time: 1:00
Categories: American, Sauces
In the United States there are four basic kinds of BBQ sauce:
Sweet and Thick

- Kansas City style sauce. It is dark brown to red, sweet, with a tomato and molasses base, and is not very spicy. Commercial examples of Kansas City style sauce are KC Masterpiece®, and Bullseye® Original.

Spicy and less Sweet

- Texas style sauce. This sauce is a tomato based sauce, not as thick as the Kansas City style, with hot chilies or red (cayenne) pepper, and it usually has cumin as an ingredient giving it a south western flavor.

Spicy and somewhat Sweet

- St. Louis style sauce. This sauce is a combination of the above two types of sauces, Kansas City and Texas styles. It is tomato-based, thinned with vinegar, and both sweet and spicy, but not as sweet or thick as Kansas City style, nor as spicy hot as the Texas style.

Vinegary and Thin

- Memphis style and other south eastern styles including North Carolina, South Carolina, Alabama, Arkansas and Georgia styles. The common base ingredient in these sauces is vinegar, and they vary on the other main ingredients, mustard, tomato, hot chilies, black pepper, etc.
Sweet and Thick - Kansas City style sauce
The BBQ sauce recipe here is a Kansas City style sauce, a thick dark brown to red, sweet, tomato and molasses based sauce. This is really a very good sauce. Try it. You'll probably want to make a double recipe. I like to use it on Pork Spare Ribs (How to Cook Great Ribs).
Note that sweet sauces that have high sugar content should not be applied before cooking when using high-heat cooking methods, like grilling. The sugar in the sauce will burn and you'll have a crispy black coating on your meat.
Ingredients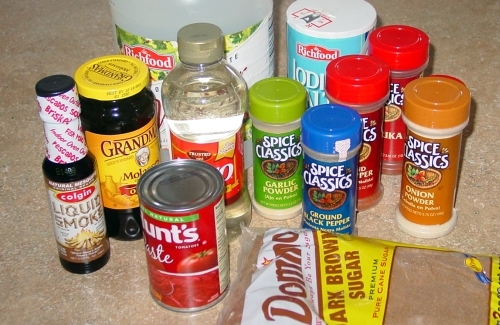 2 cups water
1½ cups light corn syrup
1 cup tomato paste
1 1/3 cups distilled white vinegar
2/3 cup dark brown sugar
6 Tablespoons (about 3/8 cup) molasses -- I use Grandma's Original (Mild Unsulphured)
2½ teaspoons liquid smoke flavoring
2 teaspoons salt
½ teaspoon onion powder
½ teaspoon black pepper
½ teaspoon dry mustard, ground -- I use Colman's Dry Mustard
¼ teaspoon paprika
¼ teaspoon garlic powder
1/8 teaspoon cayenne pepper
Preparing the Barbecue Sauce:
1. Combine all ingredients in a medium saucepan over high heat and whisk until smooth.
2. Bring the mixture to a boil, then reduce heat and simmer uncovered until reduced by half. This may take quite some time. Just keep simmering it until it becomes thick.
3. Cool, then store in a covered container in the refrigerator overnight to allow the flavors to blend. After this you can store the sauce in the refrigerator just as you would purchased barbecue sauce.
Makes 3 cups
Vinegary and Thin - North Carolina style sauce
This sauce is what you will find in most North Carolina restaurants that advertise "Lexington Style Barbecue". Lexington style barbecue is pulled pork, served with the sauce, often called "dip", on the side.
Ingredients
2 cups cider vinegar
2 Tablespoons ketchup
1 Tablespoon Texas Pete's Hot Sauce
1 teaspoon ground black pepper
2 teaspoons table salt
1 teaspoon crushed red pepper (flakes)
1 teaspoon liquid smoke
1 teaspoon molasses
1 Tablespoon white sugar
Preparing the Barbecue Sauce:
Texas Pete's Hot Sauce is made in northwest Winston-Salem, North Carolina, and so I use it in this recipe. You could substitute some other brand, but I don't recommend it.
Combine all ingredients mixing well. Allow to stand, at least over-night, for the flavors to combine. Use liberally on pulled pork.
Enjoy!