Clam Chowder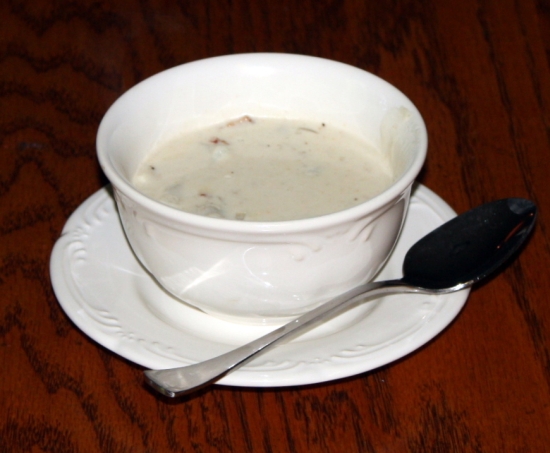 I suppose I should start off by talking about the difference between New England style clam chowder and Manhattan style clam chowder. Manhattan style is a red soup made with tomatoes. I have personally never cared much for Manhattan style clam chowder. New England style is made with potatoes and cream or milk. And of course, both styles are made with clams. This recipe is for New England style clam chowder.
If you like thick New England clam chowder like the kind that comes in a can, then you can thicken this chowder, I tell you how near the end of the recipe. Of course the canned clam chowder is thickened with gelatin, and I use flour.
Ingredients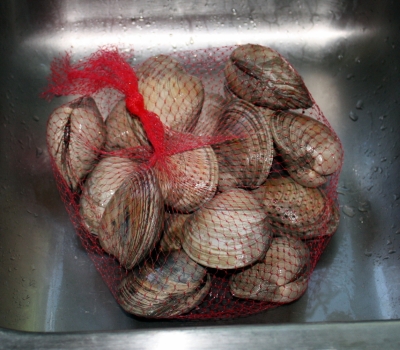 Cherrystone Clams
7 pounds of fresh, in the shell, hard clams (little-neck works best)
3 cups water
4 slices bacon (chopped)
3 red boiler potatoes
1 large onion
3 Tablespoons all-purpose flour
1 teaspoon Old Bay Seasoning
1 teaspoon fresh chopped thyme (or 1/8 teaspoon dried)
Few sprigs of parsley (chopped)
2 cups heavy cream
I prefer to use the hard clam (Mercenaria mercenaria), also known as a quahog (or quahaug), round clam, or hard-shell (or hard-shelled) clam, but other kinds of clams will work too. Mahogany clams are my second choice. Smaller clams are better, as they are tender, and spoon-sized. If you use large tough clams, then they will need to be finely minced, so you don't get any large chewy tough hunks of clam in your chowder. Of the hard clam type of clam, the sizes from smallest to largest are countnecks, littlenecks, topnecks, cherrystones and then quahogs or chowder clams. You should use the littlenecks or topnecks. Larger clams will need to be cut up, the largest clams will need to be minced. Other types of clams may need to be treated differently.
You need to clean your clams well. To clean your clams, first, under cold running water scrub the exterior of the shells with a scrub brush, rinsing well. Then soak the clams in heavily salted cold water for about 15 to 30 minutes, then rinse and soak them in cold unsalted water for 15 to 30 minutes. Repeat soaking in salted then unsalted water. The clams, if living, will spew out grit which they have in them during this process. Finally, rinse well.
In a covered pot large enough to hold all the clams, steam your clams in 3 cups of water. About three minutes after the water starts boiling, remove the clams that have opened putting them in a large bowl, and continue steaming the rest of the clams. Every couple of minutes remove the clams that have opened. Any clams that haven't opened after about ten minutes, probably were dead and should be discarded. Save the broth in the pot, allowing it to cool.
In a large pot or Dutch oven, cook the chopped bacon just until it is crisp.
While the bacon cooks, remove the clams from their shells and return any juice from the clams and in the clam bowl to your broth pot. Strain the broth through a coffee filter, and reserve it. This will remove any grit that is in the broth.
Dice your potatoes and, if necessary, cut your clams into spoon sized pieces.
Finely mince your onion and add to the bacon and bacon grease and cook slowly until the onion is transparent.
Add 3 Tablespoons flour to the bacon and onion mixture, stirring it in and cooking until it starts to bubble.
Add the clam broth and whisk well until it starts to simmer.
Add the potato, Old Bay Seasoning, and thyme. Bring to a simmer and cook about ten minutes.
If you like thicker chowder, most people seem to, then you can thicken it at this point: In a sauce pan melt ¼ cup of bacon grease or lard, or if you don't have those, butter. Add ¼ cup flour and stir over low heat until it starts to bubble. Put this mixture (a roux) into your chowder, and bring your chowder to a simmer over low heat, stirring well until the mixture thickens, about a minute.
Add the clams, parsley and heavy cream, mix well. While stirring, bring to a simmer, then remove your pot from the heat.
Taste the chowder and add salt if necessary (the bacon and Old Bay seasoning both add salt to the chowder) and pepper to taste.
Garnish each bowl with a sprinkling of chopped parsley and a pinch of sweet paprika.
Enjoy!