Craig's Ham and Bean Soup
This is a simple recipe for a hearty Ham and Bean soup. The recipe can be easily halved for fewer servings.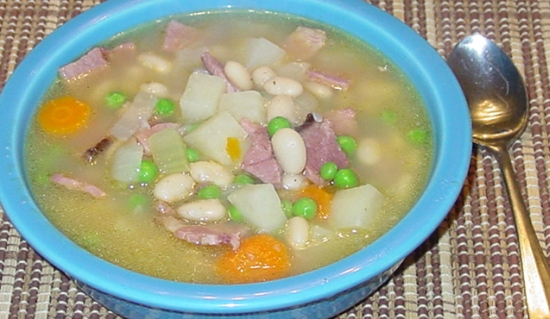 Ingredients
1 lb dried Great Northern beans
1½ lbs fully cooked ham cubed
2 medium onions chopped
3 cloves garlic crushed
4 Tablespoons butter
6 cups chicken broth
2 potatoes, peeled and diced
4 carrots, diced
2 sticks celery, diced
½ teaspoon ground black pepper
2 teaspoons Old Bay seasoning
1 cup frozen peas
Salt to taste
Preparing the Dish
Sort and rinse the beans. Put into a large pot and cover with ample water. Bring to a boil for three minutes. Cover and let beans soak overnight.
If necessary add water to just cover beans then simmer for an hour.
In a separate pan, sauté ham, onion and garlic in butter until the onion is translucent.
Add the ham mixture and chicken broth to the beans and bring to a simmer.
Add the potatoes, carrots, celery, black pepper and Old Bay seasoning. Cover and simmer for 20 minutes.
Remove from heat and stir in the peas.
Serve.
Enjoy!