Craig's Hoe Cakes
This is my own recipe for Hoe Cakes, sometimes called Johnny Cakes. This recipe makes a nice light fluffy pancake. They can be served for breakfast, lunch, or dinner, and are quite good. Traditionally, hoe cakes are made from just ground corn, or cornmeal and water. This recipe makes much lighter and tastier cakes.
The origin of the name "hoe cake" is from the way they were supposedly prepared in cotton fields in the Southern USA. The cakes were apparently cooked on a shovel or hoe held over an open flame. I hope they washed it well first, I would hate to get a chunk of dirt in my hoe cake.
---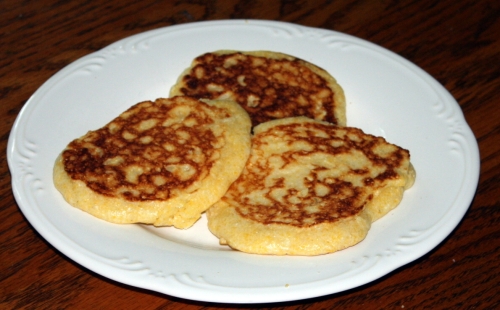 Ingredients
½ cup self-rising cornmeal, I recommend Washington brand stone ground white self-rising cornmeal
½ cup self-rising flour (like Bisquick)
1 Tablespoon sugar
2 eggs
½ cup buttermilk
¼ cup melted bacon grease (or if you don't have that, butter)
½ cup corn kernels (I use frozen corn that has been thawed, but fresh is best, or canned will work too)
bacon grease or vegetable oil or cooking spray for the frying pan
Preparing the Cakes
In a medium bowl, whisk the dry ingredients together.
In a small bowl, or a 2 cup measure, use a fork to beat the eggs into the buttermilk.
Add the egg mixture to the dry ingredients, and mix well.
Beat in the melted bacon grease (or butter).
Fold in the corn.
Heat a medium or large skillet over medium heat, and oil or grease it.
Drop the batter, using a large spoon onto the hot pan, making small cakes.
Cook until lightly browned on one side then turn and lightly brown the other side, like you would regular pancakes.
I like these with just a little butter on them, but they can be topped with pancake syrup, maple syrup, honey, or jam, or whatever you like. At dinner hoe cakes can be served as a starch side dish, and go well with any Southern (USA) food, or with barbeque.
Enjoy!