Jalapeño Cheddar Grits
This is an easy tasty dish. I like to eat this for breakfast, but it would generally be used as a side dish to go with steak or ribs or barbeque. I like it spicy, but the first time you make it you should probably make the tamer less spicy version.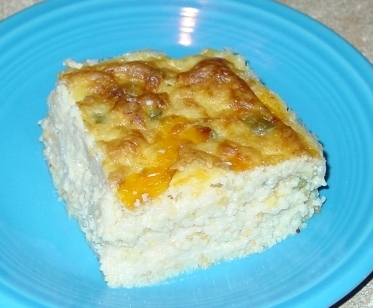 Ingredients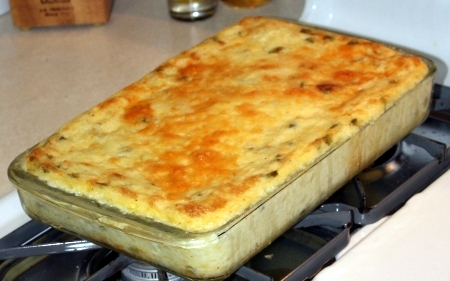 Jalapeño Cheddar Grits just out of the oven
1½ cups grits (before cooking)
2½ cups shredded extra-sharp Cheddar cheese (reserve ½ cup)
1 stick butter
1 small onion, chopped
4 large eggs, well beaten
4 fresh jalapeños, minced
½ green bell pepper, minced
2 cloves garlic crushed
1 teaspoon salt
½ teaspoon ground white pepper (optional)
½ teaspoon ground red pepper (optional)
Preparing the Dish
Cook the grits according to the directions on the package. Remove from the heat and allow to cool.
Preheat oven to 350º Fahrenheit.
Melt the butter in a sauce pan, add the onion and cook over low heat until transparent.
Stir the onion and butter into the grits, and then add the remainder of the ingredients except the reserved ½ cup cheese, mixing well.
Pour mixture into a lightly buttered 9x13 inch baking dish and sprinkle the remaining reserved ½ cup cheese on top
Bake for 1 to 2 hours, until the top turns golden brown as shown in the pictures here.
Let cool slightly before serving.
Notes:
The grits should be the long cooking variety. Stay away from quick cooking grits, and definitely no instant grits!
To make the dish less spicy (hot):

Remove the seeds and pithy white flesh from the jalapeños and discard, rinse them well before mincing
Omit the ground red and white pepper.

To make the dish spicier, in small steps:

Add the ground white pepper
Add the ground red pepper
Leave the seeds and pithy white flesh in the jalapeños and mince
Enjoy!