Macaroni Seafood Salad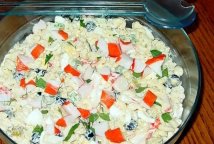 This is my own recipe. I like the imitation crab in it, but others prefer shrimp. This recipe without any kind of seafood makes a really good classic macaroni salad.
Ingredients
2 cups mayonnaise
1 Tablespoon Lemon Juice
1½ teaspoons table salt
1 pound elbow macaroni -- cooked per directions on box and allowed to cool
1 pound imitation crab -- chopped, * see note
1 dozen eggs, hard-boiled -- chopped
1 cup dill pickles -- chopped
½ cup celery -- chopped
2 cups black olives -- chopped
Preparing the Salad
When you are chopping the ingredients, you want to chop everything to be about the same size as the cooked macaroni.
Prepare Dressing: Stir together the mayonnaise, lemon juice, and salt, mixing well.
Mix all other ingredients in a big bowl. Add dressing and mix well.
Notes :
You can use 2 pounds of shrimp instead of the imitation crab. Peel, clean, and cook the shrimp, yielding about 1 pound. The shrimp should be chopped to about the same size as the macaroni, or you can buy small shrimp. The imitation crab is much easier, less expensive, and most people seem to like it. Or if you just want macaroni salad, leave out the crab or shrimp.
Enjoy!