How to make Pickled Pork
Apparently pickled pork can be purchased in some grocery stores in some locations, like in Louisiana. It is one of the standard ingredients in many Creole dishes, like Red Beans and Rice.
Ingredients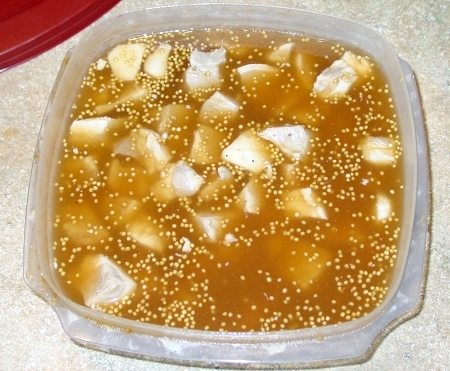 Pickled Pork
1½ pounds boneless Pork Butt, cut into 1 inch cubes
2 Tablespoons mustard seed
1 Tablespoon celery seed
1 Tablespoon Old Bay Seasoning
¼ teaspoon ground black pepper
2 Tablespoons Tabasco sauce
1 cup cider vinegar
2 Tablespoons sugar
¼ cup table salt
6 cloves of garlic (crushed)
2 cups water
1 cup ice
Method
Stir together all spices and liquid ingredients, not the ice or the pork, in a sauce pan; bring to a boil, then reduce heat to a simmer. Simmer for three minutes.
Remove from heat and add the ice to cool the liquid.
Put the cubed pork into a Tupperware or Rubbermaid container, or a gallon size zip-seal-able bag. Add the liquid mixture, and seal it.
Refrigerate at least four days and up to two weeks. After that time remove the pork and discard the liquid. The pork can be used immediately or frozen for later use.
Enjoy!