Homemade Rice Bread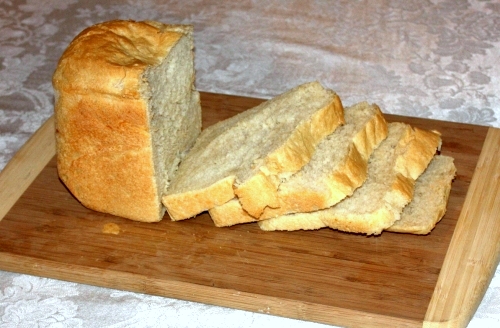 This recipe is from the Bread Machine Cookbook II [amazon.com]. I make this in my bread machine, and like the flavor, aroma, and texture of the bread. The bread ends up having a really crunchy crust, but a moist, soft interior. It makes good breakfast toast. The children and I really like it. Note that this is not gluten free bread.
Ingredients
3 cups bread flour
½ teaspoon sugar
½ teaspoon salt
2½ teaspoons yeast
1 1/3 tablespoons butter
1 cup cooked rice -- * see note
1 cup water
Preparing the Dish
I don't have any special instructions here. Just follow the recommendations that go with your bread machine, or you can make bread by hand with these ingredients. When I was first making bread by hand, my inclination was to fail to knead the bread enough. It's a lot of work really kneading it properly, until it gets a kind of rubbery texture. I should probably make a detailed page on how to make bread by hand.
Notes :
Any type of rice may be used for different flavors of bread, such as brown, wild, basmati, white, etc. I usually just use whatever I have leftover.
Enjoy!