Rub Number 1
A rub is mixture of ground spices that is made for the purpose of being rubbed on raw food before the food is cooked. Rubs are mainly used for preparing meats and fish. Different cultures have different versions of rubs and call them by different names. In the U.S., rubs are usually found on smoked or barbecued foods.
This my favorite rub recipe, it can be used on barbecued foods, like pork spare ribs, but can be used just about anywhere you think it would be good. I like to keep some in a shaker by the stove.
Ingredients
¼ cup salt
¼ cup white sugar
¼ cup paprika
¼ cup chili powder
¼ cup cumin
¼ cup granulated garlic
1 Tablespoon black pepper
1 Tablespoon white pepper
1 Tablespoon cayenne pepper
I use Hungarian sweet Paprika, but what ever you choose will work. I also use McCormick dark chili powder, which is not "hot", but any chili powder that you chose will work. I purchase most of my spices at an Indian (as in from India) grocery store. I find that they have larger quantities at quite reasonable prices.
Method
Combine all the ingredients in a seal-able air tight container.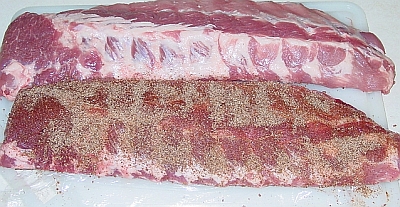 Rub being used on baby back pork ribs
The rub can be used on pork ribs, grilled pork or beef, chicken, or even some kinds of fish, like catfish. Or you can melt a stick of butter in a sauce pan and add two Tablespoons of the rub to make a poultry basting sauce. You can also put this in a shaker and use it as a condiment to sprinkle on just about anything, your morning eggs, home fried potatoes, steaks, ice cream -- well, maybe not ice cream.
You might also take a look at Rub Number 2.

Enjoy!