Swedish Meatballs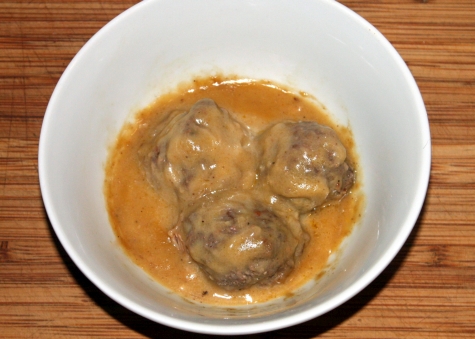 Swedish Meatballs in a Bowl
I remember the first time I had Swedish Meatballs. The meatballs that I knew about were Italian style meatballs, and I liked them. I had not seen or heard of Swedish Meatballs. I was young, in grade school, and I went with my parents to a party at our next door neighbor's house. They had all kinds of food. Plenty of alcohol too, as I remember. Of course I didn't have any of that. I remember seeing the little meatballs in a tan colored sauce, and only taking one of them because I wasn't sure I would like them. They were wonderful. The sauce really made the dish, so creamy, with nutmeg that I could taste. I really liked them. I have never been able to reproduce that experience.
This recipe for Swedish Meatballs is a simple and really easy to make recipe. It is quite tasty, and my family likes it.
Ingredients for Meatballs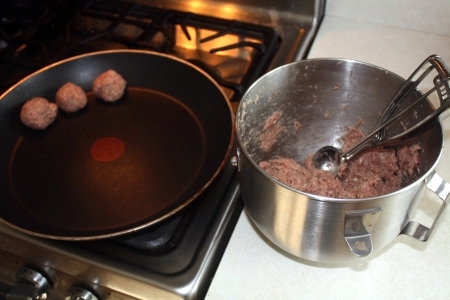 Meatball Mixture and Scoop
2 slices fresh white bread
¼ cup beef stock
3 Tablespoons butter, divided
½ cup finely chopped onion
A pinch plus 1 teaspoon salt
¾ pound ground chuck
¾ pound ground pork
2 large egg yolks
½ teaspoon black pepper
½ teaspoon ground allspice
½ teaspoon nutmeg
One of the things I do with my meatballs to add fat and flavor, is to add ground up bologna and possibly some other ground up sandwich meat. This may sound like something you wouldn't like in your meatballs, but give it a try. One of the supermarkets near my home sells lunch meat ends that I buy. They are very inexpensive. For meatballs, I look for packages that have what looks like, and has the same texture as bologna in them, mortadella, regular bologna, even liverworst are okay. I take this home and grind it in my meat grinder (actually an attachment
for my KitchenAid stand mixer
). I use the fine grinding blade and setting. Then I mix this into my ground meats along with the other ingredients. I will also grind up any ham or other soft and fatty sandwich meat, but no chicken breast or turkey breast or roast beef, they are too dry. Do not use any meat that is hard, like salami or highly spiced like pepperoni. This ground sandwich meat shouldn't make up more than a quarter of the meat though, and is optional in this recipe.
Ingredients for Sauce
2 (10 ounce) cans condensed cream of chicken soup
2/3 cup beef stock
¼ teaspoon nutmeg
1 cup sour cream
Low Sodium soy sauce (to taste)
Preparing the Meatballs
Tear the bread into pieces and place in the bowl of a stand mixer with ¼ cup beef stock so the bread can soak up the stock. Set aside.
In a large straight sided sauté pan over medium heat, melt 1 Tablespoon of the butter. Add the onion and a pinch of salt. Sweat the onions until they are soft. Remove from the heat and set aside.
In the stand mixer bowl, that contains the bread and stock mixture, add ground chuck, pork, egg yolks, 1 teaspoon of salt, black pepper, allspice, ¼ teaspoon nutmeg, and onions. Beat on medium speed for 1 to 2 minutes.
Using a 1-ounce ice-cream scoop, scoop meatballs and place in your sauté pan.
Add the remaining butter to the sauté pan. Sauté the meatballs over medium-low heat until golden brown on all sides, about 7 to 10 minutes.
Remove the meatballs to your serving dish.
Preparing the Sauce
I often make a double batch of the sauce, and then serve the meatballs with the sauce over noodles.
In the same sauté pan, with all the drippings and fond, whisk together the condensed soup, beef stock and Nutmeg.
Heat to boiling, stirring occasionally. Reduce heat to low.
Stir in the sour cream. Once the sour cream is fully integrated into the sauce, add some soy sauce and stir in, to adjust the color of the sauce until it is a nice golden brown color, about the color of coffee with a little too much cream in it.
Add the meatballs back to the pan. Cover and Heat for 2 or 3 minutes more, or until the meatballs are heated through.
Serve Warm as an hors-d'oeuvre, or over cooked egg noodles or rice, sprinkle with chopped parsley if desired.
Enjoy!