Craig's Texas Caviar
Texas Caviar is a bean salad with southwestern (U.S.) flavors, served cold.
I have seen many recipes for Texas Caviar, and there is a wide range of what goes into Texas Caviar. The only ingredient that is consistently in all of the recipes is black eyed peas. So I don't use that in mine... The simplest recipe for Texas Caviar is to take a can of black eyed peas, drain it, add Italian salad dressing, mix, chill and serve. I prefer a more varied recipe with contrasting tastes, colors, and textures. I came up with this recipe, and put in the items that appeal to me.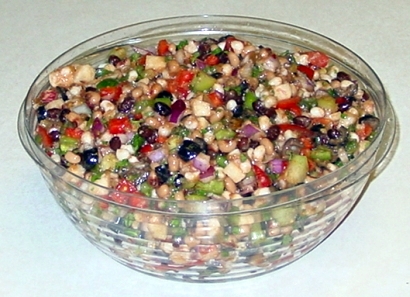 Ingredients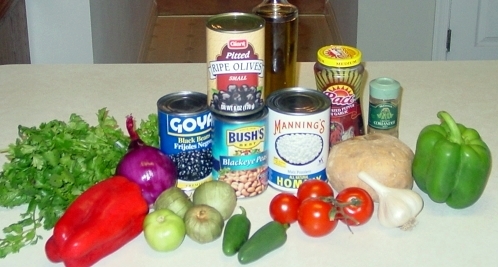 1 lb. dried black beans
½ a small jicama, skinned and diced
1 cup small pitted kalamata olives, sliced
1 large red onion, chopped
1 can hominy corn
2 plumb tomatoes, diced
3 tomatillos, diced
1/3 cup cilantro, chopped
1 green bell pepper, chopped
1 red sweet bell pepper, chopped
2 jalapeño peppers, finely chopped
2 cloves garlic, crushed
1 teaspoon ground coriander
1 teaspoon salt
½ teaspoon black pepper
1 (16 ounce) jar good picanté sauce
1 (16 ounce) bottle Italian salad dressing
Ingredient Substitutions
I've used canned beans in this recipe, but I prefer using dried beans, as the texture and flavors are superior. Sort and wash the dried beans, put them in a large pot with ample water, and bring to a boil. Boil them for two minutes, and then cover and let them soak over night. The next day, add water if necessary, then boil them until they are tender, about 1½ hours. Drain and allow to cool, then they are ready to use in this recipe.
Jicama [HEE-kah-mah] is a brown skinned white fleshed root vegetable, and is sometimes called the Mexican potato. It is similar in texture to water chestnuts, and has about the same flavor. If you can't find it, substitute about ½ cup of chopped celery.
Hominy is basically just a white corn that is very starchy, its what they make grits out of. Don't substitute corn though, use hominy. Oh okay, you can substitute whole kernel corn if you have to, but the texture and flavor will be different.
Tomatillos [tohm-ah-TEE-ohs] are a fruit native to Mexico that look like small green tomatoes. They have a thin, paper-like husk which you remove and discard before chopping or cooking. Tomatillos have a tart flavor and are used like a vegetable in a variety of Mexican dishes and sauces. If you cannot find them, then omit them.
Kalamata olives add a nice flavor to the salad, but if you can't find them, then other black or ripe olives can be substituted.
I like Pace picanté sauce, but any brand you like will work. And I like the hot kind, but medium or mild will work if you prefer. If you can't find a picanté sauce, then salsa will work too. Mild, medium, or hot, depending on your own taste.
The jalapeño peppers contribute to how spicy this dish is and you can omit them if you want the salad to be mild. I generally leave the seeds and pithy white flesh in and just chop them, but you can still add them, cutting them open and removing the seeds and white flesh, and this will make them much milder, but still add flavor. If you wanted, you could substitute some other fresh hot pepper.
Preparing the salad
All of your ingredients should be chopped to be about the same size as the cooked black beans.
Mix all ingredients well in a large bowl. Cover and leave the mixture in the refrigerator over night to allow the flavors to blend. Allow to warm to close to room temperature and stir before serving.
Serve this as a side dish at any cookout or barbecue, or with Mexican food.
Enjoy!