Turkey Tetrazzini
Looking for a recipe to use up your left-over turkey? Here is a dish the kids will howl for, even the ones who don't like turkey, and adults like this dish too.
This recipe is a very old, and very easy, recipe. It could be upgraded by adding some green vegetables, like peas or broccoli, near the end of cooking. Or after it is all cooked, putting it in a baking dish, topping it with a little cheese, maybe some breadcrumbs, and baking until the top is browned.
Ingredients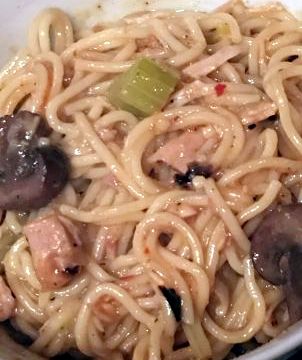 Turkey Tetrazzini
1 stick (8 Tbl) butter
1 large onion
1 cup celery, chopped
1 clove of garlic, crushed
4 cups chopped cooked turkey meat
1 pound thin spaghetti (uncooked), broken in half
2 tsp salt
½ tsp black pepper, ground
1 tsp crushed red pepper (optional)
1 can condensed cream of chicken soup
1 can condensed cream of mushroom soup
4 cups chicken or turkey broth
8 ounces fresh mushrooms, cleaned and thinly sliced
½ cup Parmesan cheese, grated
Paprika
Preparing the Dish
In a large pan or dutch oven, melt butter over low heat; add onion, celery, and crushed garlic and cook over low heat until onion is transparent.
Layer the turkey and then the uncooked spaghetti into the pan on top of the onion and celery mixture.
In a stand mixer bowl, mix the salt, black pepper, crushed red pepper, canned soups, and broth. Using the whisk or whip beater attachment, mix on low speed until mixture is uniform and fully mixed. Pour into your pot over the spaghetti, turkey, onion, and celery.
Layer the sliced mushrooms then the Parmesan cheese.
Sprinkle with paprika.
Cover and bring to a simmer; simmer for 35 minutes.
Note:
The above method only uses one cooking pot, but the spaghetti may stick together and not cook well, so I might try cooking the spaghetti separately after simmering everything else for 45 minutes, then combine.
Enjoy!