Turkey Tetrazzini
Looking for a recipe to use up your left-over turkey? Here is a dish the kids will howl for, even the ones who don't like turkey, and adults like this dish too.
The original recipe is very old and very heavy. I have upgraded it by getting rid of most of the cheese, adding white wine, peas and topping it with cheddar cheese and crushed Cheeze-Its. You then bake until the top is crispy. It is still heavy, but
Ingredients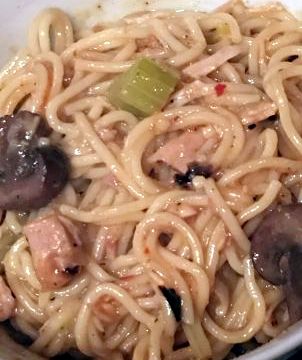 Turkey Tetrazzini
1 pound cavatappi, or macaroni elbows
1 stick (8 Tbl) butter
1 medium onion, chopped
1 stick celery, chopped
2 Tablespoons minced garlic
2 cups dry white wine
½ tsp salt
¼ tsp black pepper, ground
1½ tsp monosodium glutimate (Accent)
½ tsp crushed red pepper (optional)
1 can condensed cream of chicken soup
1 can condensed cream of mushroom soup
2 to 4 cups cubed cooked turkey
1 sweet red or green bell pepper, chopped
16 to 32 oz sliced fresh mushrooms
1 - 10 to 12 oz package frozen peas
½ cup shredded cheddar cheese
½ cup crushed white cheddar Cheeze-Its crackers
Paprika
Preparing the Dish
Cook pasta according to package directions then drain.
While the pasta is cooking, in a large pan or dutch oven, melt butter over low heat; add onion, celery, and garlic and cook over low heat until onion is transparent.
Heat 2 cups wine in the microwave until it starts to bubble, around 4½ minutes; add to onion-celery mixture and bring to a boil. Boil for 5 minutes.
In a large bowl, mix the salt, black pepper, monosodium glutimate, crushed red pepper, canned soups, and wine. Whisk until mixture is uniform and fully mixed.
Transfer the pasta to the mixing bowl with the mixed spices, and soup; add the turkey, bell pepper, mushrooms and peas. Add the onion-celery mixture. Gently hand mix with a silicone spatula until well mixed.
Pour or spoon into a greased 2½ to 3 quart casserole.
Bake at 350° for about 30 minutes or until heated through.
Top with cheese, and then crushed Cheeze-Its.
Sprinkle with paprika.
Return to oven until the top is slightly browned.
Enjoy!