Crock Pot Chuck Roast
I have seen this recipe all over the place as a Mississippi Pot Roast. It is easy to make and results in a well cooked tender roast that is quite flavorful. I usually use the broth and drippings to make gravy to serve over the beef and potatoes. Mashed potatoes are good.
Ingredients
2 to 4 lb chuck roast
1 packet ranch salad dressing mix
1 packet Au Jus gravy mix
1 stick of butter (8 Tablespoons, which is ¼ pound)
3 to 5 Jalapeño peppers or other hot peppersMost recipes uses pepperoncini type peppers, but I prefer fresh jalapeños
Method
Note that you do not need to add any liquid to this, the roast will have enough moisture to produce wonderful broth and drippings.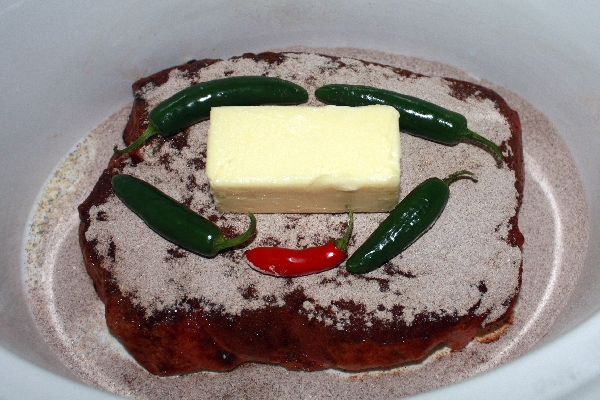 Chuck roast in the crock pot with serrano peppers
Sprinkle one side of your roast with the ranch dressing to cover, then put the roast in your Crock Pot (slow cooker) dressing side down. Sprinkle the rest of the package on the top of the roast covering it well.
Sprinkle the Au Jus mix on the top and sides of the roast.
Place a stick of butter on top of your roast in the middle, and surround the butter with the hot peppers on top of the roast.
Cover and cook on low for six to eight hours.
Serve with potatoes and roasted vegetables.
If you like this roast, you might also like Steak and No Kidney Pie, which uses this roast as an ingredient.

Enjoy!