Turkey Pot Pie
Looking for a recipe to use up your left-over turkey? This Turkey Pot Pie recipe is a classic and tasty dish that I make even when I'm not trying to use up left over turkey. You can use either turkey or chicken for this recipe.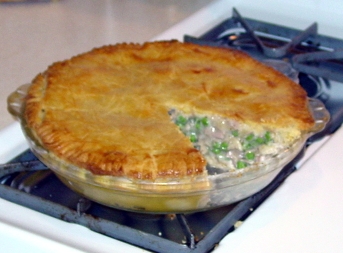 Makes one deep-dish pie.
Ingredients
1/3 cup (5 1/3 Tbl) butter
1/3 cup all purpose flour
1/3 cup onion, chopped
1 stick celery, chopped
½ teaspoon poultry seasoning
½ teaspoon salt
¼ teaspoon black pepper
1¾ cup chicken broth
2/3 cup milk
2 to 4 cups chopped cooked turkey meat; 4 cups is better
1 package (10 oz) frozen peas and carrots (or just peas)
1 uncooked deep dish pie crust (bottom and top)
Preparing the Dish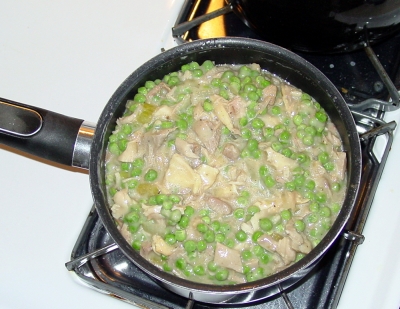 Pot Pie Filling
Preheat your oven to 400°F.
You can make the best pie crust ever, or use pre-made pie crusts. Either will work.
In a large pan, heat the butter over low heat until melted. Blend in the flour, onion, celery, poultry seasoning, salt and pepper. Cook until onion is translucent and mixture is smooth and bubbly. Remove from heat.
Stir broth and milk into the mixture, return to heat and bring to a boil, stirring constantly. Lower heat to a simmer and let simmer about a minute, until the mixture has thickened. Remove from heat.
Stir in turkey and frozen vegetables.
Pour mixture into unbaked deep dish pie crust. Add top crust and crimp around edges.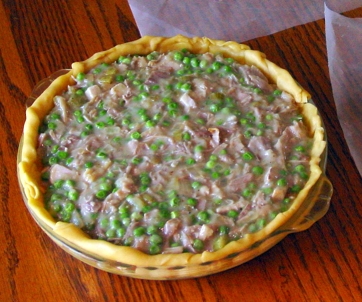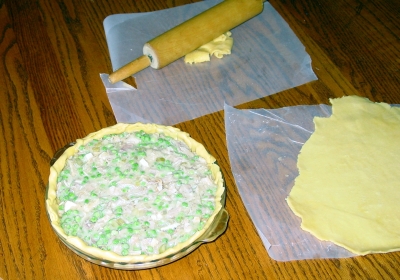 Bake in 400° F oven for 30 to 35 minutes, or until crust is golden brown.
Other Options
Add 4 ounces of chopped mushrooms along with the onion, celery, etcetera
Add 2 cloves crushed garlic along with the onions
Add ¼ teaspoon tumeric with the poultry seasoning
Replace ½ cup of the chicken broth with sherry or dry white wine
Enjoy!